• Jul. 29, 2007

A HUGE thank you to Ebell1993 for awarding me the 'Blogger Reflections Award'!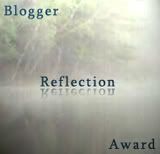 I am to award five different bloggers with this award now, in this manner:
"This award should make you reflect on five bloggers who have been an encouragement, a source of love, impacted you in some way, and have been a Godly example to you. Five Bloggers who when you reflect on them you get a sense of pride and joy... of knowing them and being blessed by them."
My only problem is that I can't think of five blogs, as most of the ones I would give it to either don't do awards, or have already received the award, etc. So, I am awarding it to the following two blogs:
Ellie Skees
- Ellie's family is so very encouraging! Through this really tough season of their life, they are blessing others with their amazing faith and trust in God. They have been through so very much, and yet even when faced with very hard decisions, have been able to be an incredible encouragement to the readers of their blog. Please join me in praying for their family and especially for Ellie.
Layne
- I know Layne personally, and reading her blog is truly wonderful. It's lovely to read her thoughts on God and life, and to be encouraged by her Godly example of young womanhood. She puts everything together with much thought, and has a really neat blog all around. Thank you Layne!
Rules of participating for the 'Blogger Reflection Award':
1. Copy these rules into your own post.
2. Replace my bloggers with yours & Reflect on five bloggers and write a least a paragraph about each one.
3. Go leave your chosen bloggers a comment and let them know they've been given the award.
4. Put the award icon on your site.
5. If you do not want to 'pass it on', claim the award below for yourself instead of the 'Blogger Reflection Award'. :)

~~~~~~~~~~~~~~~~~~~~~~~~~~~~

And now that I have awarded those two blogs with the 'Blogger Reflections Award', I shall continue to award a few of the other blogs I love reading with the all new 'You Don't Have To Pass It On If You Don't Want To Blog Award'!.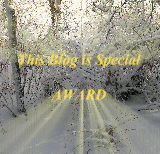 "This award is designated for any blog which the giver decides is worthy of praise. The awarded blogs are consistently awesome, encouraging, and enlightening. Perhaps those blogs have touched the giver's heart, or have given them the one thought needed to go on in some particular area of life. Remember, those who give this award, how much this really means! It is a gesture of extreme importance, saying that this blog is highly valuable in some way. Maybe it's just the simple things that are posted: the fun that it is, the joy that it brings, or the little snippets of life shared that push you forward. That is what this oddly-named award truly means."
TeamBettendorf
- A diary of life! The Bettendorfs have also been through an interesting time this year, and are continuing down the road of God's grace. Their large family and the stories Katie shares are a blessing to everyone who reads it, and she always reminds us of all the fantastic things we probably should be taking/using, but aren't. :) Thank you for sharing your lives with us!
MaidensOfWorth
- Anna and Miriam have such a lovely blog, sharing everything from little snippets of life, to stories of faith and kinship. Their friendship shines through, and an everlasting love for God encourages other young women to step forward and spread a beam of heavenly light around. Thanks so much girls!
JenCluff
- You make me laugh! Jen's lighthearted flutey wisdom imparted through her blog is so much fun to read, and I always learn something new. Her words inspire me to aim high in my musical studies, and to try these new things on the flute. Be it a new flute player, whose notes ring clear in the air, or another flutish warm-up, it's always worth reading. Thank you for the encouragement and inspiration, Jen!
~~~~~~~~~~~~~~~~~~

The only rule for this award is that you enjoy it, and take either the animated icon or the still image icon for your blog if you want it. If you don't want it, don't take it. :) Pass it on to other fabulous blogs if you want, don't if you don't. We're all flexible! :)
I hope this means something to all of you. :) It was a lot of fun to do, and I hope I'll see some more great blogs coming up in the future! :D
God bless you all,
Sheila