• Sep. 28, 2007

A big thank you to Ebell1993 and to Christianmusician1 for awarding me the 'Nice Matters award'!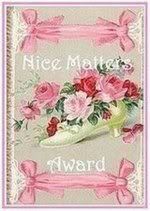 "This award is for those bloggers who are nice people; good blog friends and those who inspire good feelings and inspiration. Also for those who are a positive influence on our blogging world. Once you've been awarded please pass it on to 7 others who you feel are deserving of this award."
Greatly appreciated. :) I'll pass it on to a few people, but not 7. ;)
Maidens of Worth
- I know you don't do awards, but suffice it to say that you deserve it. :) Thank you for a beautiful blog.
Ednella
- A lovely blog friend, with fabulous posts...and three blogs, I think, so be sure to find them all and check them out!
Layne
- This girl has taken an amazing leap, and I commend you for it. Thank-you for a great blog, Layne!
There you are. :) If I gave you an award, you don't have to have it if you don't want it, that's my rule with any blog award. ;) If I didn't give it to you, don't take offense, I'm tired, and I may not have thought of you. ;)
Enjoy being nice today!
God bless you all,
Sheila
PS. I know I'm late with the interesting posts. I'll try to do one tomorrow. :)