• Sep. 4, 2007


Yes, that's me. :)

Dear blog readers,

I'd like to share with you all a bit more of who I am. Please read on!

Who am I? I am no celebrity, no star. I am no great oracle of wisdom, and no mother of many. I am not a popular girlie-girl, and I am not a hidden away nun. So really, who am I? I am Sheila, truly, and I am a 15 year old young lady striving after God's will. That could be so much, so who is that girl? Here I am, in as much detail as possible.

My interests: My one and only life-source is Jesus Christ, and I am striving with all my heart to let 'this little light of mine' shine with as bright a light as I possibly can. I know I fail, and my heart is not as centred on Him and His will for my life as it probably should be, but I am now trying my hardest, and praying that I will truly want to want Him at any given moment. I want to display Christ's incredibly love simply by being me, and I know I cannot do that on my own. With God's help, though, I know for a fact, that I can lean on Him completely and totally give my everything to HIm!
As most of you will already know quite well, I am desperately musical! (Hence the blog name and current template.) I play the flute and piano with much enthusiasm, though during the summer one might not see that quite so clearly, as even the musical part of myself needs a little break now and again. However, my excitement for the sounds I create is huge, especially on the flute, and I can't wait to get back into lessons and such in a week! Hopefully I will have students again this year! :)
I also ride horses and enjoy that very much. I ride Western, for those of you who might wonder, and think it's the greatest! It is all very layed back and I have never competed in my life. It is something I do for pleasure, and those horses get right into my heart each time I see them! I have a little collection of horsey things, grooming brushes and such, that I buy now and then for cheap, just for fun...just in case. ;)

Other than that, I am enjoying working on Geometry this semester, and am interested in topics such as midwifery and the like, and have considered taking a few doula courses in a couple years. I also am working towards becoming a lifeguard and swim teacher, which I enjoy very, very much! I also do lots of research on various topics that pop into my head, checking encyclopedias, and using the internet as an invaluable resource.
My flute...or is that a flower?


My hopes and dreams: My biggest hope is to become a wife to whoever God has in store for me, and a mother to the children I desire Him to bless me with. That truly inspires me to learn as much as I can now to prepare for the life I hope to have ahead! Although I know it is possible that I may stay single, I pray that is not so. I dream of big fields, open spaces, huge gardens, giant family, and beautiful femininity throughout. I know that our Father in heaven has made me that outdoor dreamer, which consequently is why I spent most of my childhood at 'my tree' living out a 'Little House on the Prairie' of my own imagination, with my dear imaginary friends who attended the same 'boarding school' (my house!) as myself. I, who in my imaginary world was known as Christine, used to call the space between two birch trees my home, and I would sweep it out, and sit on on of the big branches of the big maple tree, driving my 'carriage' to 'town' through beautiful prairie outdoor settings of my imagination, holding the 'reins' of my rope swing in front of me. Who needs real people?! This proves to me the kind of dreamer I am, and the life I've lived out in my imagination as a little girl is what I hope for in the years to come. I know it all seems so perfect now, but I pray that I can at least get a taste of that little house on the prairie one day, filled with the laughs and joys of brothers and sisters that I always dreamed of having...only I'll be the Mommy. :) Of course, this is all hypothetical. Haha!

I also pray that I can continue to teach music to those little ones in my life, be it simply students from the community I may live in, or my very own children. Hopefully, I can even continue with my lifeguarding and swim teaching!
Mommy practice! He our friend's little boy. Isn't he cute?

My personality: Well, most of you have a bit of an idea about that! :) First off I'm totally goofy and sometimes a tad on the weird side. At least, that's what they say. I love to sing silly songs when I wash the dishes, as evidenced by some of the really weird posts I used to put up. I guess I'm past that kind of weirdness! On the other hand, I love all things feminine and am so glad that God chose me to be one of his little girls. I hope that I can demonstrate--through my chatty personality--Christ's unending love. If you just look at all the good parts of my personality, I'd describe myself as fun, bright, chatty, silly, feminine, God-fearing, dreamy, etc., but as we all know, that isn't all there is to a person. I'm often impatient, grudging, lacking in deference, not humble, and a very bad procrastinator, however, with God's help, I think I can get over those things. I am really working specifically on humility and patience at the moment, and although it isn't easy, I do make small baby steps towards the true, God-fearing woman I want to be.

So, who am I?
I am Sheila, the girl of breezy dreaming, of prairies and oceans, and wide open spaces, of laughter, and Christ-adoring, of struggles and uncertainties. I'm a human being just like you, and yet unique, because God made me like that. Yep, I'm no cookie-cutter girl, but I'm nothing extraordinary either, just different...and I have a secret for you: You are too. :)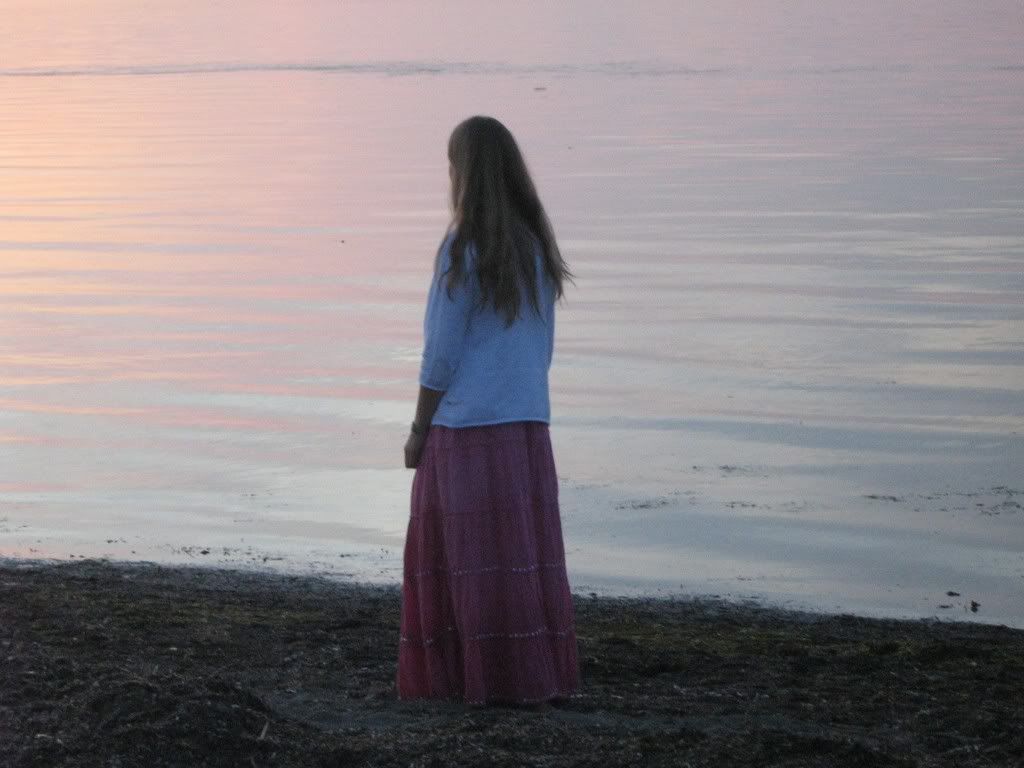 That's me too! :D
God bless you all as you discover who God has made you to be.
In Christ,
Sheila