OH MY GOODNESS!!!!!!!!!!
I had a happy day. :D
This morning I got up at 7:30, which is not early, but it felt early, and I did not want to get up. Then I forced myself up, feeling ucky and sleepy, and deliberated for half and hour over what to wear. Oh I want to wear that skirt, oh I don't like that blouse, that means I can't wear that skirt, my Mom doesn't like that skirt, I want to wear that blouse, this skirt doesn't match that blouse...ackgh. Skirts strewn everywhere. ;) I did finally make up my mind, and ate breakfast and did my hair, and put
make-up
on. Can you tell there's something different about this morning? Yeah. I almost never 'do' my hair or put
make-up
on.
Yep, we were heading off to festival. Music festival! Packed up my flute, took my B-vitamins, made a sandwich, bottled some water, collected up my music, grabbed a sweater, and hopped in the car. WooHoo!
Got there just as
Jen
was hurrying across the street in the pouring rain, and went inside to meet Marianne and her student, welcomed by the sounds of a performing trombone. A random church with less than 10 people in the sanctuary. Yep, this is festival! Yay!
I went and set up my flute and then we went in and listened to some brass performances and adjudications. Marianne was right, the adjudicator is a sweet Santa Claus guy. A very talented, musical Santa Claus without a beard mind you, but the St. Nick type anyway. He was very encouraging to the students, and had a great way about him. I was excited. My parents and Jen were encouraging as usual, and after a short intermission, it was time for the flute classes to begin. All two of us. :)
Alison got up and played very nicely, and Santa adjudicated very sweetly, with fabulous pointers, too! "Congratulations, Alison. Good job!" That means it's my turn. Okay, here goes...wooooooooooo!!! Alison and I alternated playing, so we each got a little break in between, but this is what I played:
- Sonata No. 6, BWV 1035, by J.S. Bach
- Suite Modale, mvmnts 1, 3, & 4, by Ernest Bloch
- Out of the Cool, by David Heath
I got some recordings at rehearsals, so hopefully I can get those up sometime. :)
So, I had a BLAST playing, and enjoyed every moment, every note, every awesome save after a mistake, every articulation, every moment of music. And then, with a curtsy, it was all over. I got (respectively) 88%, 91%, and 92%. I am astounded. That is incredible. Just amazing. I am
thrilled!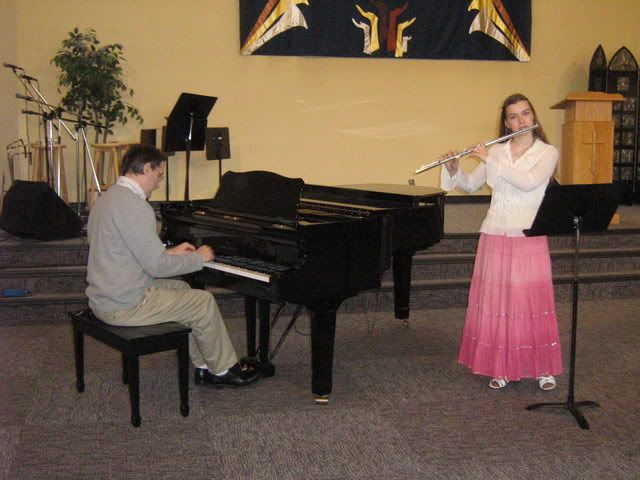 So now lunch awaits, and Marianne and Alison and Alison's Mom could not make it, so they went for cake, but Jen, (I really don't need to explain anymore that she's my flute teacher, do I?) my parents, and I, all went to the little pink Tex-Mex restaurant and ate lunch-ish yummies. Yummy! We heard stories of orchestras past and present, stories about lonely (???) waitresses arriving on buses 20 years ago, and parrots sitting on margaritas, We also enjoyed strawberry banana 'squooshy things'. (Um, crushed ice and whizzed up fruit-y tasties) Guess who finished last?
Now
Erica
, did I tell you that you are a mini-Jen yet? Because if I didn't, you need to know that an identical personality of yours is hiding out up here playing the flute and drinking strawberry banana squooshy things. Seriously, curly hair and everything. You know how you talk so much and everybody loves it? Oh yeah. ;D
After lunch and some gum that tastes like Jolly Ranchers, we headed for home and I did some Systematic Theology with Sadie. That was fun. I also got in a bit of music History, and some singing. 6:45 rolled around and it was time for choir, yesss!!!
Rosemary was incredible
again
, and I had a lot of fun. Just on a whim I'm trying to memorize all our choir pieces for the concert in April. A couple times I had to peek over people's shoulders for the words, but not having to hold and look at music all the time gives you so much freedom! In one song I don't know rhythms on too well yet, and I had to look at the music, and you know, I was one of them that kept singing after Rosemary stopped us. I had NO idea what she was doing or directing us to do. So, 5 points for having choir music memorized. :D In any case, it was lots of fun, I am REALLY enjoying learning to sing better and having a blast finding out that I can hit some high notes, even if not always so well!
My Mom picked me up and nonchalantly said: "So, how would you feel about attending a masterclass with Sir James Galway?" WHAT???!!!! OH MY GOODNESS!!! ARE YOU SERIOUS???!!!
Turns out the Weggis masterclass he does in Switzerland is right when we are going to be there in the summer. So, it's a quite distinct possibility that my tiny fluting self will be with incredible-est flute guy ever at his masterclass this summer. We'll see for sure yet in a few weeks, but oh my goodness I can't believe it.
iHappy
iExcited
iThrilled
So yes, I am feeling musical today!
I am really sorry if this post sounds like bragging, because really, I'm just super excited about my music and what God is doing with it for me. It is SUCH a blessing. The opportunities He is giving me are beyond anything I could hope for. I am so grateful.
God bless you all!
Sheila
PS. Unfortunately, Jen did not let me get a picture of me with her. All we got were impromptu shots of her running past the camera, so if any of you wish to 'sign your name' in the comments and we'll let her know that I need a Sheila and Jen picture, I'd be much obliged. :P :D